I hope everyone has been enjoying the Holidays. 
We have been un-plugged and enjoying time with friends and family. More to come after the New Year.
Happy New Year and get ready for the next Bead Soup Blog Party, I hope I get a spot!!!
Thank you so much for all the support and comments this year, I feel so grateful for all my connections both off and online!
I really appreciate all the feedback and I hope to figure out how I can respond easily  to each comment  within wordpress for 2012!!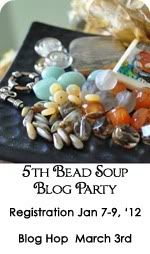 An important note -- the party will now be run by lottery.