Lori Anderson is the creative spirit behind the Bead Soup Blog Party. I participated in this fun blog party in January, you can read about it here.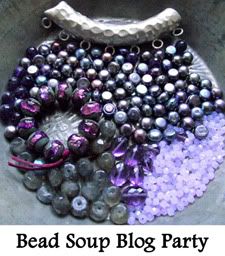 I had no idea what an amazing group of jewelry makers there are online.  I have meet some  in person and by following there blogs I can learn more about them and others that  I hope to met in the near future.  I am finally using Google Reader , so I can easily keep up with the blog posts. I look forward everyday to reading the posts all in one spot.  I am trying to add to my reading lists, so if you have a favorite, please leave a comment.
Back to   clearing my studio space and looking for goodies to put in my bead soup.